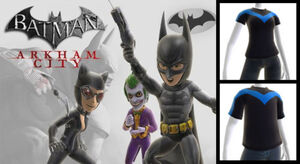 In conjunction with the release of Batman: Arkham City for the Xbox 360, the Live Marketplace has released new Batman-themed items to customize the player's avatar.
Ranging from themed T-shirts to items and suits, designed for both male and female avatars, the marketplace exchanges the player's Microsoft Points (MP).

Gallery
Trivia
Ad blocker interference detected!
Wikia is a free-to-use site that makes money from advertising. We have a modified experience for viewers using ad blockers

Wikia is not accessible if you've made further modifications. Remove the custom ad blocker rule(s) and the page will load as expected.