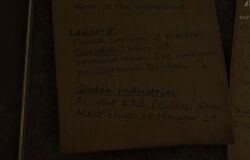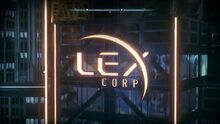 LexCorp was headquartered in Metropolis (with offices and holdings worldwide). That multinational conglomerate was the largest and most powerful corporation in the world. LexCorp was founded by, and was owned and headed by, one of the world's three richest men, Lex Luthor. Luthor created the giant conglomerate just over thirty years ago following his first major success, the design of the LexWing Aircraft.
Luthor was himself a brilliant scientist. However, as the years passed, Luthor gave up scientific research in favor of managing his business holdings. Luthor limited his involvement to coming up with ideas for new inventions which he passed on to his army of researchers and scientists for development.
LexCorp, and its elusive chief executive officer, comprised a powerful presence in Metropolis. That corporation owned a large part of the city's commerce. LexCorp's 96-story L-shaped skyscraper headquarters dominated the skyline of the eastern point of New Troy. Some estimates had Luthor either directly or indirectly employing almost two-thirds of the city's population in his various companies. LexCorp, whose principal stockholder was Luthor himself, was the holding company for a catalog of smaller wholly- or partially-owned subsidiaries. Among those were:
LexComp (manufacturers of personal computers)
LexAir and InterContinental Airlines (commercial airlines)
LexCom (communications holdings, including WSVG-TV, a Metropolis television station), LexCom once owned the Metropolis Daily Planet.
Advanced Research Laboratories
LexOil (encompasses holdings in the drilling, transportation and wholesale and retail distribution of oil)
RoboInc. (research and development in robotics and artificial intelligence)
SecurCorp Armored Car Service
LexSea (shipping fleet of cargo container ships and oil tankers)
Good Foods Group (owners of Ralli's Family Restaurants and Big Belly Burger fast food chain and Koul-Brau Breweries. They also owned northeastern U.S. chain of supermarkets)
Luthor Financial Group (had holdings in three Metropolis banks: the Metropolis
Mercantile Bank, Commerce Bank of Metropolis and First Metro Security)
LexCorp also had sights on Wayne Enterprises' Applied Sciences Division, with Luthor also requesting that it buy out the division for $1,000,000,000, although he was repeatedly given implied refusal by the owner of Wayne Enterprises, Bruce Wayne.
Appearances
In Penguin's office, on the Final Offer, there were two lists. List of companies: AmerTek, LexCorp, and Queen Industries. The list also indicated that Penguin was planning an ambush on a LexCorp truck convoy composed of three trailers at the Gotham Bridge on a Tuesday at 4 AM while it was coming from Highway 63.
Big Belly Burger and Koul-Brau Breweries both appeared in Batman: Arkham Origins.
Lex Luthor, the head of LexCorp also made a voice-only cameo as a voice message meant for Bruce at Wayne Tower, where he mentioned his attempted purchase of the Applied Sciences Division of Wayne Enterprises with the clear intention of continuing his efforts to get it, and even went as far as contacting Bruce directly.
Hell's Gate Disposal Services also appeared in Batman: Arkham Knight's main game as well as its Gotham City Story, A Flip of a Coin, although it was run as a front company for Two-Face and his gang, mostly because of Two-Face considering the name appropriate due to the garbage pickup and the law enforcement system in Gotham that was one and the same.
Ad blocker interference detected!
Wikia is a free-to-use site that makes money from advertising. We have a modified experience for viewers using ad blockers

Wikia is not accessible if you've made further modifications. Remove the custom ad blocker rule(s) and the page will load as expected.