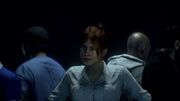 Francine Lanstrom is the wife of Kirk Langstrom and aided in his attempts to synthesize a cure for his chronic deafness. She was seemingly killed by him when he spliced his DNA with that of a Vampire Bats and became Man-Bat. However, if Batman returns to Kirk's lab her body is missing and the words "Forever my love" are written on a broken television screen. Fans speculate that this means that Francine became She-Bat.
Ad blocker interference detected!
Wikia is a free-to-use site that makes money from advertising. We have a modified experience for viewers using ad blockers

Wikia is not accessible if you've made further modifications. Remove the custom ad blocker rule(s) and the page will load as expected.