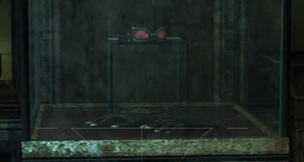 The
Clawed Gloves
 are, as the name suggested, latex gloves with retractable, claw like nails used by
Catwoman
, and was a main part of her
Catsuit
.
Incident Report
Arkham Origins Blackgate Incident
Catwoman used her gloves to attack Batman after revealing her true plans towards Bane.
Arkham Asylum
A pair of these gloves were seen on display in a hallway near the Warden's Office in the Arkham Mansion along with Catwoman's goggles.
Arkham City Incident
Catwoman used these claws in basic combat, and also used them to claw Two-Face's 'good side'.
Arkham Knight Incident
Catwoman still used them for close combat.