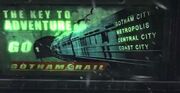 Central City, Missouri, located across the Missouri River from Keystone City, Kansas, was founded in the 19th century and became an important stop for cattle drives. It began to see tremendous growth after the completion of the Transcontinental Railroad, becoming the first major hubs west of Chicago. A second period of growth occurred after World War I, and it has burgeoned to the present day. Central City was the home to the Flash, Barry Allen.
Ad blocker interference detected!
Wikia is a free-to-use site that makes money from advertising. We have a modified experience for viewers using ad blockers

Wikia is not accessible if you've made further modifications. Remove the custom ad blocker rule(s) and the page will load as expected.