Batsuit
Talk

0
461pages on
this wiki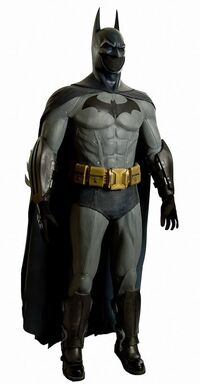 While brooding in his study over how to be a more effective crime fighter, Bruce Wayne saw a bat come through his window and perch on the bust of his father.
Seeing it as a sign and realizing that "criminals are a superstitious, cowardly lot," Wayne adopts the persona of a bat in order to conceal his identity and strike fear into his adversaries. It is as a result of this incident that the Batsuit was developed.
Becoming a varitable tech suit designed to enhance and support his abilities as Batman, as Bruce's career as Batman continued, he evolved and updated the suit to keep ahead of technology in the streets of Gotham, using the resources of Wayne Enterprises to do so. Eventually the suit itself became a kind of totem and symbol for himself and others, an example of the realm of darkness defending the realm of light.
Military-grade spun para-aramid fibers are molded into the batsuit chest piece to provide greater protection from attack. Super lightweight nano-engineered polymer plating incorporated into the Batsuit creates a more resilient outer shell, while ultra strong micro plating developed by WayneTech is layered between the regular armor and the undersuit. Additionally, the batsuit is soaked in a top secret prototype formula, developed by Lucius Fox at WayneTech, which massively increases durability without additional weight and retaining full movement and flexibility.
Batman: Arkham Asylum
Edit

The batsuit can be upgraded with XP through the WayneTech upgrades menu.
Armor Upgrade - 4 upgrades in total, each upgrade increases Batman's maximum health by 1/4.
Following the completion of the game's story mode, an alternate Armored Batsuit can be chosen in the Challenge mode.
Batman: Arkham City
Edit
The Batsuit's upgrade menu has 2 sections: the Combat Armor decreasing damage from hand-to-hand combat, and the Ballistic Armor decreasing damage from firearms. Both can be upgraded up to 4 times and the settings for it are both reasonable and plausible. This is the same for Arkham Origins.
Batman: Arkham City Lockdown
Edit
Alternate Batsuits were available for Batman: Arkham City Lockdown, with each suit possessing a varied balance of Health, Damage and Speed. Players could choose which suit most fitted their combat style.
Arkhamverse Batsuit - Health 100, Damage 100, Speed 100
Batman: The Animated Series Batsuit - Health 90, Damage 120, Speed 100
The Dark Knight Returns Batsuit - Health 135, Damage 110, Speed 90
Batman Beyond Batsuit - Health 80, Damage 80, Speed 115
1970's Batsuit - Health 85, Damage 70, Speed 120
Earth One Batsuit - Health 100, Damage 130, Speed 85
Bruce Wayne - Health 60, Damage 70, Speed 110
Batman Incorporated Batsuit - Health 145, Damage 90, Speed 100
Batman: Year One Batsuit - Health 70, Damage 125, Speed 95
Batman: Arkham Knight
Edit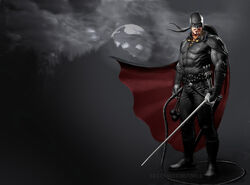 The suit in Arkham Origins resembles the armored suit in Arkham Asylum.
The developers of the game made it so that owners of the PC Batman: Arkham Asylum could alter the colour appearance of the Batsuit, enabling players to create their own varieties of Batsuits to use in the game.
The Batsuit is an obtainable item at the Xbox Avatar Marketplace. The suit costs 400 Microsoft Points.
To show the brutality of the environment in Batman: Arkham Asylum and Batman: Arkham City the batsuit gets cut, shot, and torn, at various points in both games. Catwoman's suit also gets torn, cut, and shot in a similar fashion.

The Batsuit in in Arkham Origins however will only receive scrape marks due to it's much heavier armor.
The grey utility belt in Arkham Origins might be a reference to the one in Batman: Year One.

The Sinestro Corps Batsuit for Batman: Arkham City is free to download when you purchase a copy of Green Lantern on Blu-ray exclusively at Best Buy. This is exclusive for the PS3 version of the game. However, with the release of the Costume Pack for Arkham City downloads, everyone has all suits.
During Batman: Arkham City's release, a falsified rumor was generated of a Zorro-skin for Batman being available. It was later found to be a hoax.