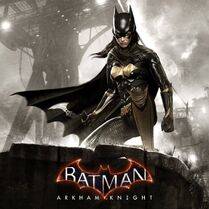 Batgirl: A Matter of Family
was one of the
Arkham Episodes
from
Batman: Arkham Knight,
prequel story that takes place before
Batman: Arkham Asylum
, in which Barbara Gordon suited up and teamed up with Robin to save her father, Commissioner Gordon, who had been kidnapped by the Joker. It was released for Season Pass owners on July 14, 2015 and was released for the general public on July 21st, 2015. Getting the DLC unlocks Batgirl for all Challenge Maps.
A little girl Named Katie Burke was battling cancer for three years, Joker has given the billionaire his happy pills that made him laugh then choke to death. The Seagate Amusement Park was an inspiration by Katie's drawings.
Story
Batgirl teams up with Robin to save Gordon from Joker and Harley Quinn in the Seagate Amusement Park.
Characters
Items
Locations
Seagate Amusement Park
Used to be a Sartorico oil rig, but was transformed into an offshore amusement park that contained a large Ferris Wheel among other rides. The island could be seen from Gotham City during the Arkham Knight Incident.
Easter Eggs
Gameplay Changes
Gallery
Trailer
External Links
Ad blocker interference detected!
Wikia is a free-to-use site that makes money from advertising. We have a modified experience for viewers using ad blockers

Wikia is not accessible if you've made further modifications. Remove the custom ad blocker rule(s) and the page will load as expected.