Batcave
Talk

0
458pages on
this wiki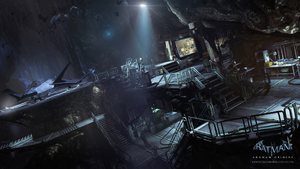 The
Batcave
is the home, sanctuary and base of operations for the
Batman
and his family. Located directly underneath
Wayne Manor
the cave was first discovered by a young
Bruce Wayne
when he was four years old, stumbling and falling into one the of the many grottoes on the estate.
Years later he would begin to use the caves to store his equipment secretly as the vigilante Batman, eventually transforming the cave itself into a base of operations for his continuing war on crime.
Incident Reports
Edit
Arkham Origins IncidentEdit
The Batcave is acessible in Batman: Arkham Origins and works as a hub to acess challenge maps, alternate Batsuits, and Alfred. It is first shown in the opening cutscene, with Bruce entering the cave and suiting up. He leaves via the Batwing to go to Blackgate Prison. From then on, the player is free to come and go from the cave whenever they please.
However, going to the Batcave is also part of a mission at several points during the story. First, before the player can enter the GCPD and acess the National Criminal Database, they return to the Batcave and retrieve the concussion detonator, a new gadget. Second, after Bane deduces Batman's identity, the player returns to find the cave destroyed and a beaten Alfred laying on a rock towards the bottom of the cave. After this, whenever the player returns to the cave, it is still in the destroyed state, with several parts of it smashed or on fire.
Cold Cold Heart IncidentEdit
Data not yet available.
Arkham Asylum IncidentEdit
Arkham City IncidentEdit
After Bruce Wayne was capture and incarcerated in Arkham City. Hugo Strange's TYGER guards attempted to take over Wayne Manor and the Batcave beneath to take advantage of Wayne being in Arkham. Luckily, Nightwing and Robin stepped in to defend the Manor, taking out the TYGER guards and managing to keep Wayne Manor and the Batcave safe.
Sometime after the Arkham City incident, Bruce runs a simulation in the Batcave to test the Batcave's self defense systems and his own predator tactics by staging a simulated break in by TYGER guards.
The Batcave Predator map is featured in the Challenge Map DLC pack for Batman: Arkham City.
The Batcomputer will mention how many guards remain as well as those taken out.
Near the Batwing, on the ground beside the grate, is the Grapnel Boost and several of the containment pods that housed the Batsuit at the beginning of the game.
There is a statue construct of Batman in the hallway to the right of the T-Rex.
There's a reference to Jason Todd, the second Robin, in the challenge map of Batcave. The Batmobile is without it's tires, refering to the first encounter between Jason and Batman, they met while Jason was trying to steal the tires of the Batmobile.
One of the monitors in the Batcave is showing video of the Cathedral in Arkham City, the other is from Arkham Asylum.