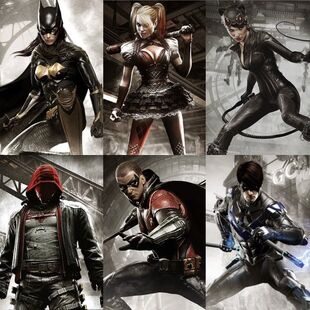 Arkham Episodes are special campaigns in Batman: Arkham Knight which take place before or after the game. They are only available as DLC.
The November update will add areas from already released episodes to the A.R challenge mode. Upcoming Arkham Episodes will have A.R challenges already included. After getting the first three Arkham Episodes, the characters will be available in all challenge maps.
Arkham Episodes
For the first time in the Arkham series take on the role of Joker's psychotic side-kick Harley Quinn and wreak havoc inside the Blüdhaven Police Department as you smash, crash and bash your way to a friend very much in need. With this exclusive Story Pack experience events in the lead-up to Arkham Knight as you infiltrate Blüdhaven to rescue your partner in crime: Poison Ivy. Baseball bat in hand, lure unsuspecting enemies with the 'Jack-in-the-box,' entangle them with your 'Snare Trap', or unleash 'Mayhem Mode' to savor Harley's devastatingly chaotic nature first-hand.
Get the Red Hood Story Pack and wage a one-man war against the notorious Black Mask. For the first time in the Arkham series, take on the role of the ruthless vigilante Red Hood and utilize new moves, gadgets and dual handguns as you attempt to bring down a vast criminal empire. Inspired by events from the comics, experience unique combat situations and bring a new kind of fear to your enemies as you fight towards an epic showdown with Gotham's most infamous crime lord.
Set before the events of Arkham Asylum, 'A Matter of Family' allows players to take on the role of Batgirl as you team up with Robin to save your father - Commissioner Gordon - from a lunatic's trap. In an abandoned amusement park on the shores of Gotham, Batgirl and Robin must fight against the odds to save Barbara's father and avoid falling victim to the Joker's sinister plan. Trained by Batman, Batgirl combines devastating combat with unparalleled hacking abilities to take down enemies, control objects and solve puzzles. Explore the eerie Seagate Amusement Park in this action-packed adventure which culminates in the ultimate showdown between the good, the bad, and the criminally insane.
After Arkham Knight, Nightwing has to prevent Penguin from leaving GCPD.
After Arkham Knight, Catwoman gets some revenge towards the Riddler in his hideout.
After Arkham Knight, Robin has to defeat Two-Face.
Trivia
Before release, Arkham Episodes were known as Gotham City Stories.
Ad blocker interference detected!
Wikia is a free-to-use site that makes money from advertising. We have a modified experience for viewers using ad blockers

Wikia is not accessible if you've made further modifications. Remove the custom ad blocker rule(s) and the page will load as expected.