Batman learns that the Joker is hiding inside Arkham's old Monarch Theater and enters it searching for the antidote. There are two Jokers present, however, and the real twin explains that his double is Clayface, who has been impersonating him all along. In the struggle that follows the theater is destroyed, although Batman is able to retrieve the formula and save himself. Joker attacks him, causing the remaining antidote to spill. He succumbs to his illness while Batman looks on, maintaining that he would have saved his foe. Soon after, Batman carries Joker's corpse out of Arkham City into a breaking dawn.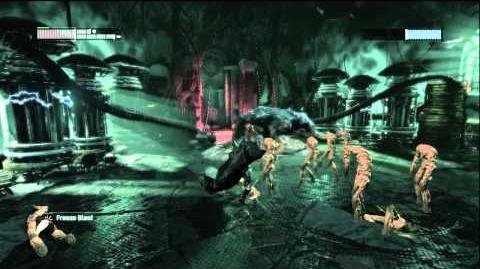 I tried out two different presentations to give more of an idea on the different ways this tool could be used. The second style is just the highlights of the video, as opposed to an article format.
Clayface transforms from

The Joker

back to his natural form.
Batman first throws a

Freeze Blast Grenade at Clayface.

Clayface uses his

rolling attack

for the first time.
Clayface hits

one of the explosive corners

of the theater.
Clayface uses his

spinning attack

for the first time.
Batman finally

freezes Clayface

and uses Ra's al Ghul's katana to attack.
Joker makes his

first appearance

in the theater.
Clayface starts making

clay thugs to attack

Batman.
Clayface finally

freezes again

allowing for Batman to attack.
After

finally taking out Clayface

the Exit Stage Right achievement is unlocked.
Harley Quinn first appears and

is in shock to see Joker

.
Catwoman looks on

at the events that are happening.

Commissioner Gordon and the police

come to investigate

the situation.
Ad blocker interference detected!
Wikia is a free-to-use site that makes money from advertising. We have a modified experience for viewers using ad blockers

Wikia is not accessible if you've made further modifications. Remove the custom ad blocker rule(s) and the page will load as expected.